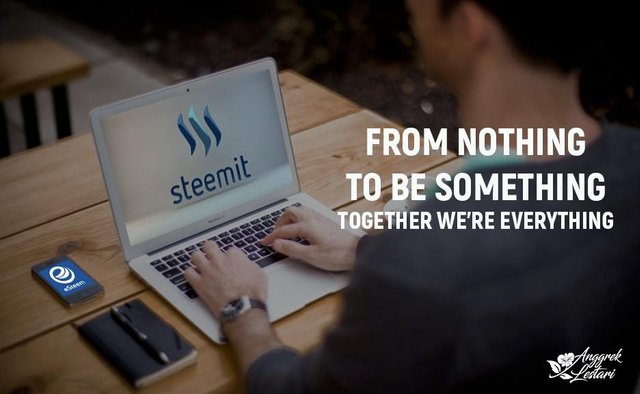 Before the presence of Steem Blockchain, whatever we shared on social media was nothing.
Social media users are actually dragged down by the massive data flow that actually benefits the business market.
How many of us have felt something? I myself acknowledge that in Steemit we can be important people who build communities, and are given the trust to build together our future. Isn't that fun? Together building a future with Steem Blockchain?
So it is true that the Steemit motto: From nothing to be something.
We can start with blogging,
we can start with vlogging
we can start by drawing
we can start with the excitement of traveling!
For me, I always make Steemit a platform to have fun. How about you?
Keep Steem on!
Please read the previous article about Have Fun With Steemit: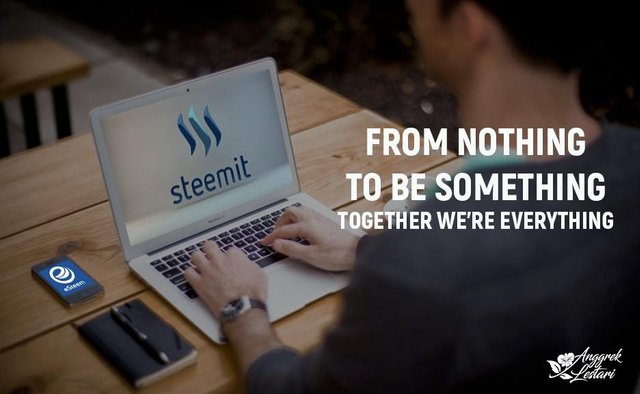 BAHASA: Dari Bukan Sesuatu, Menjadi Sesuatu.
Sebelum kehadiran Steem Blockchain, apa pun yang kita bagikan di media sosial adalah tidak berarti apa pun.
Pengguna media sosial justru terseret arus pemberian data besar-besaran yang justru memberi keuntungan untuk pasar bisnis.
Berapa banyak dari kita yang sudah merasakan menjadi sesuatu? Saya sendiri mengakui bahwa di Steemit kita bisa menjadi orang-orang penting yang membangun komunitas, dan diberikan kepercayaan untuk membangun bersama masa depan kita. Bukankah itu menyenangkan? Bersama-sama membangun masa depan dengan Steem Blockchain?
Maka adalah benar bila motto Steemit: From nothing to be something.
Kita bisa memulai dengan blogging,
kita bisa memulai dengan vlogging
kita bisa memulai dengan menggambar
kita bisa memulai dengan keseruan traveling!
Bagi saya sendiri, Steemit selalu saya jadikan wadah untuk bersenang-senang. Bagaimana dengan kalian?
Keep Steem on!
Mohon untuk membaca tulisan sebelumnya tentang Have Fun With Steemit: